It is significantly easier to find a product that is perfect for you if you know what you're looking for. This applies to bikes too, of course. Each person has different needs to be met by the bicycle, so it is not possible to create a universally applicable model. Still, what's possible is to have an orientation on how to analyze the options at hand when choosing a bike for yourself.
Choosing the right model
Bicycles are developed to fit certain activities (such as biking to work or racing) and surfaces (dirt roads, asphalt of cities, mountain trails and so on). Therefore, it is important to know the specifications of each bike beforehand.
Generally, those who are starting to ride a bike opt for versatile models that fit OK in several situations. Thus, there is no extra concern for investments and no need to buy more than one bike. It is common for cyclists to discover which style they prefer over time, making changes, acquiring more than one model, or even assembling bike collections.
To know what is right for you, think about all the situations in which you will use the bike the most. If you don't need to ride on trails, dirt roads and uneven terrain, an urban or electric bike may be a good choice. Otherwise, the other – specialized – types are better.
City bike
This is a great bike for riding around town, but it's not the best companion for hard workouts, competitions, and dirt roads. Usually, the tires have a smooth tread or low studs, making it easier to grip on paved roads and more stable.
A good city bike should have a rigid fork – it'll allow the bike to be fast and reliable. However, this component, depending on the quality, generally does not cushion potential impacts. What can improve cushioning is a slick – studless – and wider tire, as well as the positioning of the handlebars, which should not be too high.
Electric bike
These bikes are no longer a novelty anywhere. They have a differential that guarantees more power and requires less effort in pedaling. The motor is great for going uphill, as it reduces the difficulty of the route by combining the cyclist's pedaling with electric power.
It must be handled with care when loading and in contact with water. On rainy days, it is important not to ride in flooded areas, as this can damage or burn out the motor. The battery can be affected by humidity and poor charging, charging for a shorter time than specified by the manufacturer, or charging at the wrong voltage.
Mountain bike
If you're wondering which bike is best for riding on trails and uneven terrain, it is mountain bike. A rather obvious answer, isn't it? The wider, studded tires make it easier to traverse through mud, rocks, potholes, downhills and uphills. The wheel can also vary in size (29, 27.5 and 26 inches being the most popular among cyclists).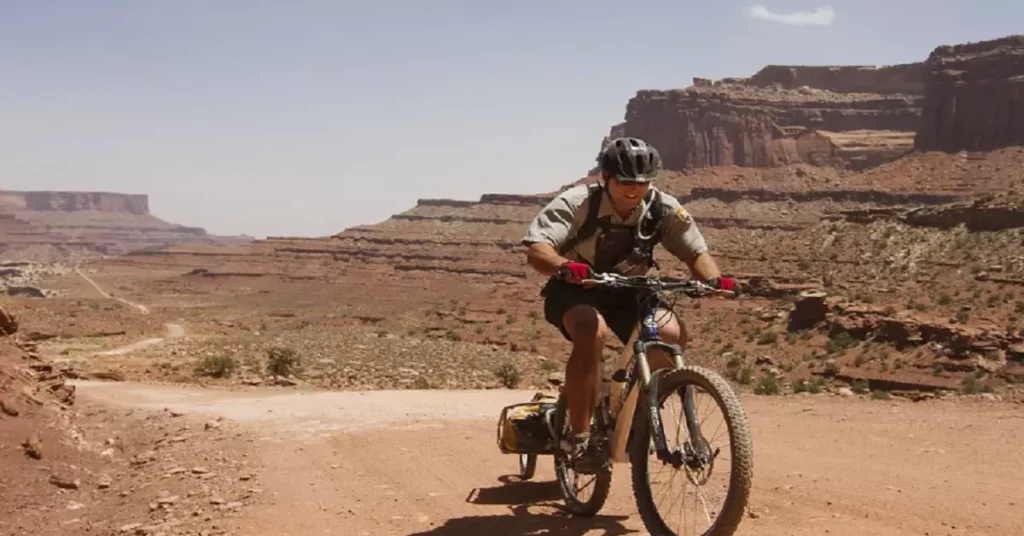 The bike shares its name with the cycling discipline. In some places, this model is called an all terrain bike (ATB), as it has a structure that adapts easily.
Race bike
Those looking for speed and performance, should opt for a speed bike. As the name implies, it is fast and is the best for racing and road cycling, where practitioners follow a faster and more constant pace.
The pedal stroke is facilitated by the lower positioning of the handlebars, which provides aerodynamic accommodation. In addition, other features also influence your comfort, such as lighter tires, shorter head tube, and flatter stem.
Bike material
To find out which is the best bike to ride, in addition to the model, you need to understand the components and materials it's made of. Although some people think that the frame is the main thing responsible for the weight, in fact, the wheels contribute the most in this metric. The heavier their material, the harder it will be to make turns and maneuvers or face climbs and descents.
So, if you want yours to be lighter, opt for a bike that has wheels with fewer spokes and those made of thin materials, such as carbon fiber. In addition, tires with latex tubes also weigh less, but are also more fragile for the same reason.
The frame is the second heaviest item and can be found in carbon fiber, aluminum, titanium and steel. The first two are the lightest and most commonly used in city bikes. The latter two weigh a little more but are tough for MTB and road bikes.
The best value for money principle
In addition to analyzing the previous points, the best bike is the one that suits your pocket and your body. You are pretty much guaranteed to save money if you search in different stores and analyze the advantages of each manufacturer.
You can start by buying a ready-made model and then customize the parts the way you prefer. On the other hand, you can also consider shared bicycles – an option found in some cities for affordable prices.
Conclusion
Among the various types and models of bicycles, there is sure to be one that is right for you. The main thing is to know what features to look for and remember what you are buying for.
Well, if you do not need a bike on a permanent basis, you can rent one when necessary. Many cities now have such an opportunity; in some places – like New York – it's a real industry. If you live in the Big Apple, or just decided to visit the city, pay attention to Central Park bike rental – this is where the real pros provide these services.